Guides for working remotely that are specific to AITS-supported departments are available at http://aits.unt.edu/howto/; UNT log in is required.

Welcome to AITS!
Administrative Information Technology Services, delivers information technology services, infrastructure and consulting to the UNT administrative departments in support of the university's mission. AITS organization chart
The AITS Focus on Service
Achieves its goal within a framework of collaboration, communication, integrity and accountability;

Serves students, faculty and staff within the context of IT support provided to the administrative areas;

Provides support for environments ranging in complexity from email kiosks to desktops to HIPAA and PCI-related services;

Builds and manages server-support services both on the departmental and university-wide scale;

Manages the desktop and mobile-user environments for the administrative departments;

Provides web development support for Auxiliary Services and Business Services;

Provides support services for the Intensive English Language Institute academic lab;

Provides mobile-phone support for all users in the administrative departments;

Builds and/or manages video-surveillance systems, provides video surveillance to UNT and satellite campuses;

Builds and/or manages heating, ventilation and air conditioning access-control systems; supports UNT Athletics and Apogee Stadium;

Is the liaison between the departments and ITSS; and

Provides consulting, planning, design and implementation services for any technology effort initiated by our departments.
To accomplish its mission, AITS employs well-trained and knowledgeable IT professionals who have an effective combination of academic foundation, technical expertise and experience.
AITS provides a wide range of information technology services to the administrative community. The team is located strategically across campus to provide the most responsive service possible.
AITS Newsletter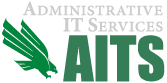 AITS Services
Server Support
The AITS team builds and manages server resources for all of the administrative departments at UNT. The servers range from file servers to web, application, surveillance, environmental controls and database servers. The complexity can range from the very simple to the highly complex to meet the needs of FERPA, HIPAA and PCI regulations.
Desktop/User Support
The AITS team also provides desktop and user support to the administrative departments and staff members. This covers configuration, deployment, security and ongoing management. Support also extends to the labs and public kiosks in each department.
Web Development Support
The AITS team members provide web development for Auxiliary Services and Facilities. Some of the development is for sites that have eCommerce needs.
AITS-Supported Divisions and Buildings with Major AITS Support | View IT Support Group by Area
University Building Locations

Other Sites and Facilities

Chestnut Hall

Discovery Park – Division of Student Affairs

Eagle Student Services Center

Facilities Buildings

Gateway Center

Hurley Administration Building

Marquis Hall

Pohl Recreation Center

Risk Management Center

Sage Hall

University Union Building

Bruce Hall

Clark Hall

College Inn

Crumley Hall

Honors Hall

Kerr Hall

Legends Hall

Maple Hall

McConnell Hall

Mozart Square Hall

Rawlins Hall

Santa Fe Square

Victory Hall

West Hall

Coliseum

Frisco Campus: video surveillance and Emergency Operations Center

Sorority Houses

UNT Athletics Center and Apogee Stadium

Waranch Tennis Complex
AITS is an operationally driven information technology services division and our basic mission is to meet the technology needs of all our departments in the pursuit of the University of North Texas mission.