LinkedIn Learning Service and Support
You have access to thousands of video tutorials through LinkedIn Learning.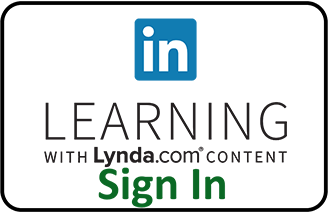 Use your EUID and password to log in.
Click on the LinkedIn Learning button to access your account.
Office and Classroom Usage
Find general information for employees and managers. Information for faculty who are thinking about incorporating LinkedIn Learning into their teaching also is available. For integration into the Canvas Learning Management System, please visit the LinkedIn Learning page at the Center for Learning Experimentation, Application and Research.
Access more than 10,000 video tutorials on multimedia production, design, professional skills and more. In addition to the English library, multi-language access for courses is available in German, French, Spanish, Japanese, Mandarin, and Portuguese — for UNT System faculty, staff and currently-enrolled students!
Access UNT's LinkedIn Learning on the go with the iOS or Android Mobile App.
Access LinkedInLearning exercise files
LinkedIn Learning and Canvas
LinkedIn Learning courses can be accessed from within Canvas and faculty are encouraged to incorporate these materials into their online courses and in a classroom setting. For more information about LinkedIn Learning and Canvas integration, please visit the LinkedIn Learning website at the Center for Learning Experimentation, Application and Research. If you would like assistance setting up the integration in your course, please contact the UNT CLEAR Faculty Help Desk by phone at 940-369-7394, or by email at clearhelp@unt.edu.
LinkedIn Learning and Business Operations Training
A number of LinkedIn Learning courses and libraries are available as recommendations on UNT's Business Operations Training site hosted on UNT Bridge. Employees and supervisors can use UNT Bridge to manage mandated and optional training activities.
Help with LinkedIn Learning
More information about using LinkedIn Learning can be found in a video entitled LinkedIn Learning for Higher Education. Or, browse to the page for information about the Key Benefits of Connecting your Linkedin Account.
About LinkedIn Learning with Lynda.com content
Lynda.com has been a leading online learning platform that helps people learn business, software, technology and creative skills to achieve personal and professional goals. The Lynda.com site has been migrated to LinkedIn Learning which now hosts all Lynda.com content as well as providing additional learning features and optional integration with personal LinkedIn profiles. Through the University of North Texas subscription to LinkedIn Learning, UNT students and employees have access to the Lynda.com video library of engaging, top-quality courses taught by recognized industry experts.
For 20 years, Lynda.com content has helped students, leaders, IT and design pros, project managers — anyone in any role — build software, creative, and business skills. Now part of Linkedin, Lynda.com content serves more than 10,000 organizations. With tutorials in five languages, LinkedIn Learning is a global platform for success.
LinkedIn Privacy Policy | LinkedIn Learning Customer Support